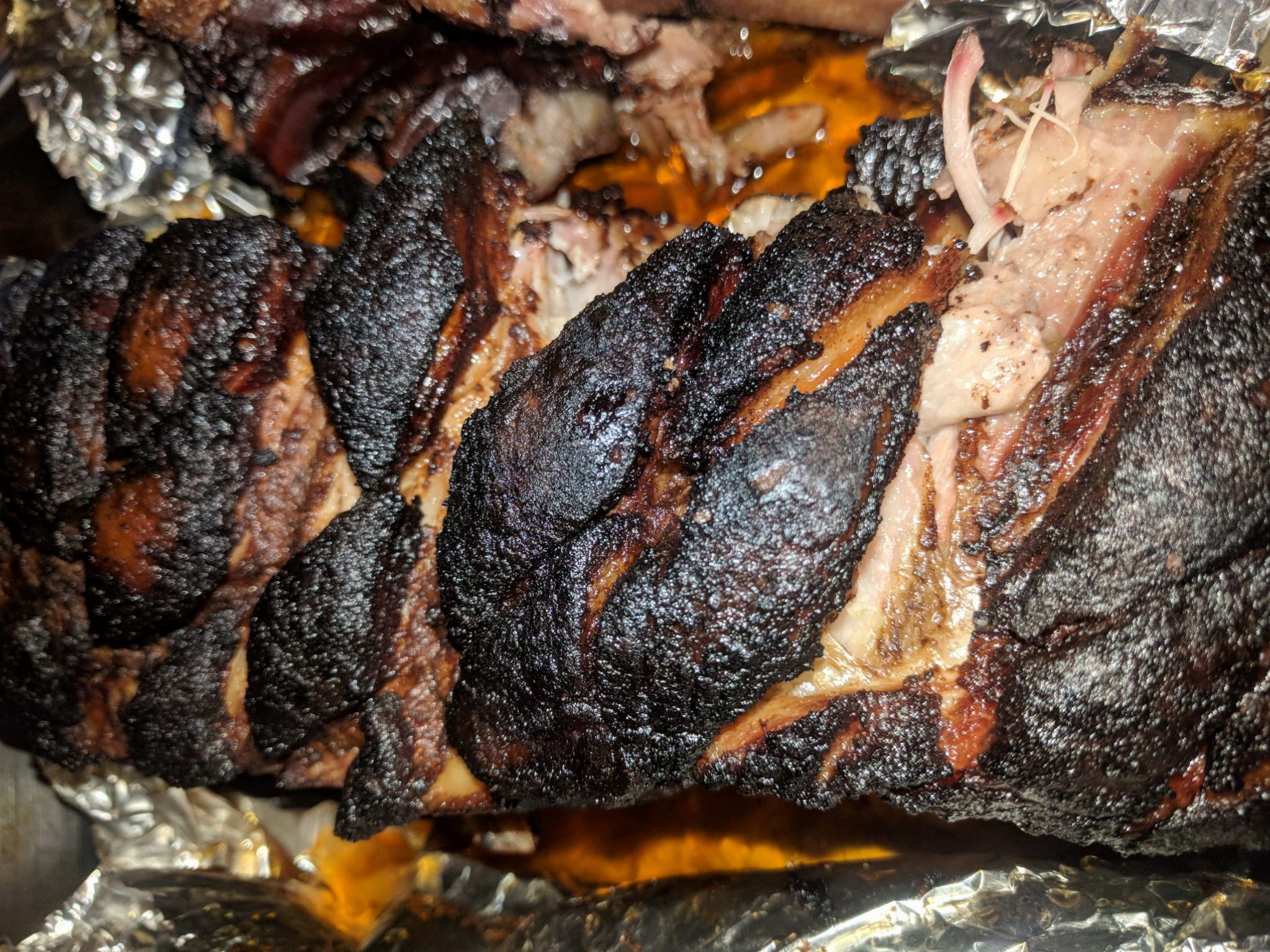 Written by stephen on July 30, 2018
smoked pork butt
food
After reading through "Franklin Barbecue, a Meat Smoking Manifesto," I was inspired to knock the dust off of my Bradley smoker. The results were impressive enough that my resident food critic/wife requested that I write down the recipe.
So without further ado here it is:
Get your hands on a pork butt. Mine weighed 4 pounds and had a liberal side of fat on it almost a pork belly worth.
Apply a rub of your choice it won't make that much difference after hours and smoker. I used good old-fashioned S.P.O.G. (salt,pepper,onion powder, garlic powder)  Enough that no more will stick.
Smoke fat side up for four hours at 250 degrees and/or till the internal temp is 170. I used mesquite, at Franklin they use oak, I tend to think it doesn't matter much which wood you use.   Except Hickory which I find quite distinctive.
Wrap in foil (Texas crutch) and place the package in a deep sided roasting pan into the oven at 250  three more hours and/or till the internal temp is 203.
Rest for an additional hour and/or internal temp is 140. It should pull easily. Toss in its juices and serve.
And that was pretty much the best pulled pork I ever ate.
I very much enjoyed the Franklin cookbook and find the authors approach to barbecue very appealing.  He demystifies one of the oldest cooking techniques and I love that he devotes a single chapter near the end to a mere four essential recipes. Everything else in the book is well worth the read; he covers story and science, safety and technique.
I strongly recommend both the cookbook as well as the resulting barbecue.
Archives
Calendar
January 2020
M
T
W
T
F
S
S
« May
1
2
3
4
5
6
7
8
9
10
11
12
13
14
15
16
17
18
19
20
21
22
23
24
25
26
27
28
29
30
31
Categories