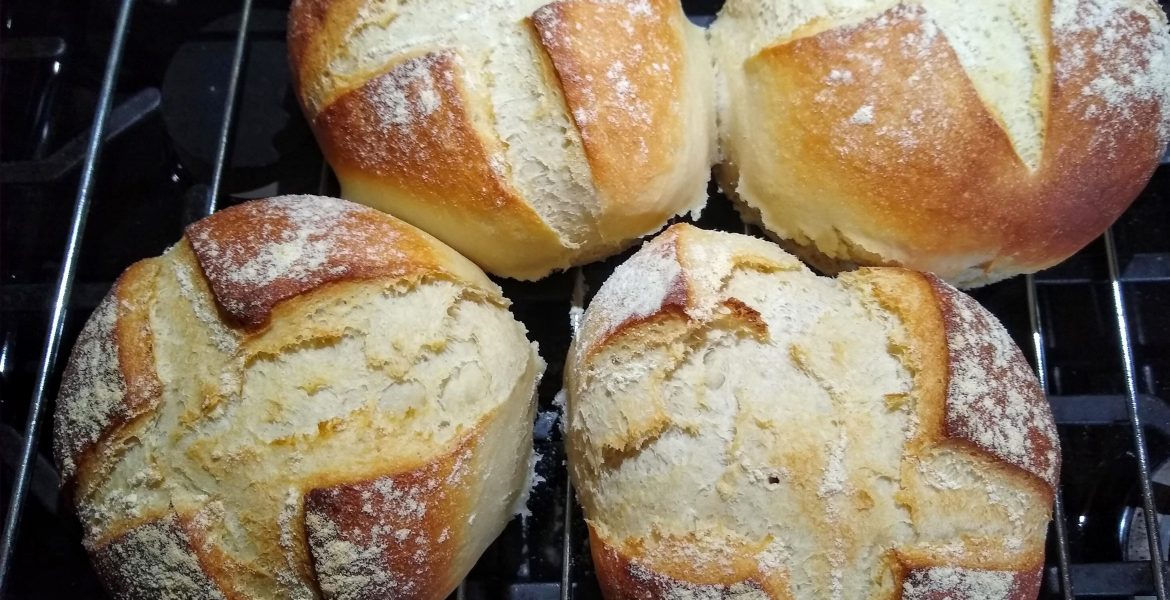 Written by stephen on May 2, 2019
no look bread
food
4 parts flour
3 parts water
1 tsp yeast
1 tbl salt
First there was no-knead bread, now for … well, not really. But definitely no measure. I've made this equally satisfactorily in a Cusinart and a stand mixer. Add about 4 cups of flour, maybe a teaspoon of yeast and probably a tablespoon of salt. Oh right, don't dirty spoons or a measuring cup, pour straight into the bowl or into your hand first if you must. Also, please don't proof your yeast.** It's fine, really it is.
Turn on the mixer. This is the only part where you really have to pay any attention: slowly add water until the dough comes together. It should form a ball on one side of the mixer and most all of the shaggy dough bits should be absorbed. How much water? Usually 3 parts water to 4 of flour so 3 cups or so? Just keep adding it slowly until the resulting dough is tacky not sticky. Remember playdough? Like that.
Now, cover it and walk away. Or bag it and refrigerate it. Or stick it in the back of your freezer, I'm not your dad. There is a saying that flour is trying to become bread. This is the living proof (sorry). Really it is a lot less fussy than recipes would have you believe.
After the dough has doubled in size, either on the counter or after a few days in the refrigerator, turn out onto a light floured counter. Form into shapes of your choice and bake at a high temp (400°f) till an instant read thermometer reads 195°f. Or till it looks good, whatever.
It's bread. Seriously. Your mistakes are going to be delicious.
** buy the lifetime bags of yeast and keep them in the freezer. commit to something.
Archives
Calendar
January 2020
M
T
W
T
F
S
S
« May
1
2
3
4
5
6
7
8
9
10
11
12
13
14
15
16
17
18
19
20
21
22
23
24
25
26
27
28
29
30
31
Categories